About Keith Lorcher
I grew up in a rural town in Northern Ohio, then spent four years in the Army; stationed in Hawaii--jumping out of airplanes. After my military tour was complete, I moved to Texas for the weather. I always liked art. For many years I was putting my creative energy into oil painting. In 2007, I moved into a new place that was too small for setting up a painting studio and stopped painting. I took a welding and blacksmithing class at ACC, for fun, and would always find myself peeking into the jewelry making area to see what they were doing. It seemed very interesting to me; and it was not as hot as welding. So, in 2011 I decided to take a jewelry class to see what it was all about. Half way through the semester, I was in a bicycle crash; involving me, a bag of BBQ and a dog. I broke both my wrists, my elbow and my collar bone. Due to my injuries, I did not do much for the next couple years. After I felt healed up, and being how I liked the art of making jewelry, I decided to take another jewelry class. I was hooked. All the tools, materials, and processes involved in making jewelry really appealed to me. Now, I hope to continue making fine, luxury, designer jewelry for many years to come.

I treat all of my work as individual art pieces that are fun and enjoyable to wear. All of my jewelry is one of a kind. I use only the highest quality materials. All of my jewelry is handcrafted, one at a time. I like the idea of building up small pieces into something. I try to fabricate every part I can and I strive to have clean and solid workmanship that looks good and is comfortable to wear. I'm exploring style and design ideas. I want you to look good while wearing jewelry I have made.
The wear ability of jewelry is very important to me. Jewelry should not have any snagable corners or sharp edges. It should be durable enough to last. I do not cut corners on material. I try to use as much material as I can without turning the jewelry piece into a brick. When you are wearing one of my jewelry pieces, I want you to be wearing something that feels real. Jewelry is not just something pretty, it should have a good amount of silver and gold in it, with some quality stones. It should be worth something.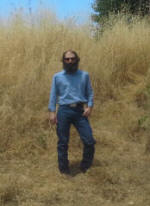 I really enjoy being out in nature and I feel a deep connection to the Earth , Sun, Moon and the spiritual energies that surround us.
I enjoy camping, canoeing, gardening, keeping chickens for eggs, fishing/hunting, riding motorcycles, and I collect crystals.