Blog
As you can probably tell, I created this website by myself. It will be a work in progress. Making jewelry is way more fun than messing with a website. I also take all my own pictures of my work. Getting better photographic representation of my jewelry will be something I will continue to work on.
I see a lot of jewelers using the terms "recycled silver". I purchase my silver from www.riogrande.com. Here is what they say about the silver they sell. Information About Silver Sustainability.
I have several sketch books full of my drawings of jewelry. It usually starts with getting my hands on some stones.
Lapis, Garnet and Nephrite Jade.
I am using all of the Jade for one necklace.
The Lapis and Garnet have been set into the hand fabricated rings pictured below. The jade is for a necklace.
The process for completing a piece of jewelry takes many steps.
Bezel cups for the jade necklace are tied up with binding wire--ready to be soldered.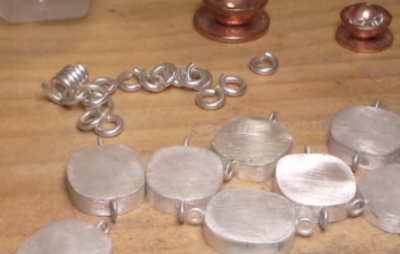 After the bezel cups for the jade necklace are soldered, it's time to cut all the jump rings.
The toggle clasp and chain for the jade necklace was all hand built.
Finished Jade necklace.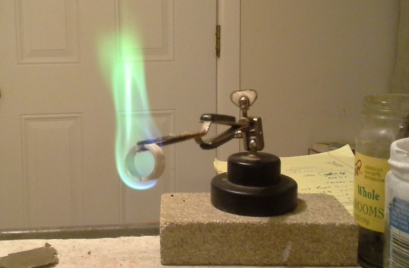 Part of the fun of making jewelry, is stuff like this. Here I am burning off boric acid and denatured alcohol. This process cleans the metal an helps prevent dark fire scale (cubric oxide) from forming on the metal during the soldering process. This ended up being the ring pictured below.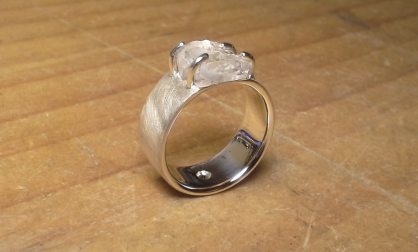 Sterling silver and a quartz chip with a 2mm smoky quartz, flush set, in the bottom of the band.
At this time, I am set up in the kitchen. Nothing like having a crockpot full of acid on the kitchen counter next to the sink! I am planning on moving into a new house soon and having a dedicated room for my jewelry studio. I am also doing everything that is involved in this jewelry adventure myself.
My jewelry bench!
The very first time I ever showed my jewelry in public was at Austin Fashion Week 2015.
Keith Lorcher